Quick Update on Downtown Chapel Hill | April 2021
Quick Update on Downtown Chapel Hill | April 2021
---
The following are excerpts from the Monthly Report by the Executive Director of the Chapel Hill Downtown Partnership on Thursday, April 8, 2021.
---
Status of Local Businesses
Businesses Coming

Franklin St. Motors (May projected opening)
The Spindle (Summer 2021)
StillLife (Fall 2021)
Stir Fry to Go (soon)

Business Opened (since 2020)

Chimney (January 2020)
Mogee Tea (January 2021)
Jed's Kitchen (January 2021)
Blues on Franklin
Rent the Row (400 W. Rosemary)
Fifth Third Bank
Gizmo Brewery
Summit Coffee



Businesses Closed (since 2020)

Francescas
Ivy & Leo
Perennial
Moe's
Lula's
Lotsa Pizza
Ms. Mong's
Princeton Review
Kaplan
Frutta Bowls
Gentleman's Corner
Ye Olde Waffle Shop
Chapel Hill Pilates
Breadmen's
Kipos Greek Tavern



---
Status of Development Projects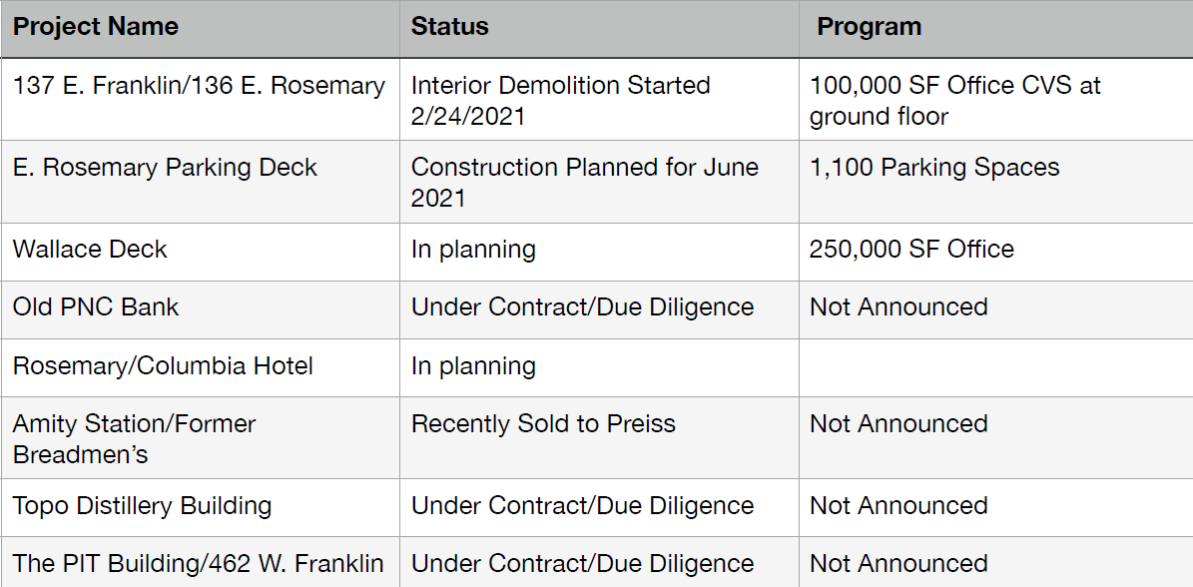 ---
Photo credit: Customers enjoy a sunny day outside Ben & Jerry's ice cream store on West Franklin Street in this town file photo by Mark Losey, Town of Chapel Hill.
---
Like what you read? Read more on Our Voice.